Marian de Souza
School of Education
Australian Catholic University, Ballarat, Victoria
Patricia Cartwright
School of Education
Australian Catholic University, Ballarat, Victoria
$49.50 inc gst
128 pages, 297x210mm, Softcover
ISBN 9781921333-064
Available Now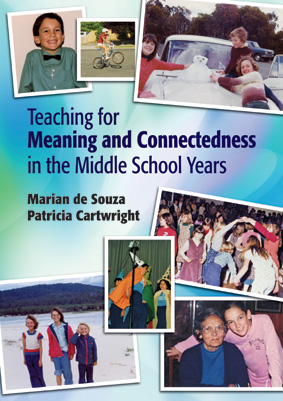 The Book
This resource book provides an innovative and visionary approach to teaching across a range of learning areas at Middle School – English, the Arts, Humanities, Social Sciences, Personal Development and Religious Education. The approach is based on new knowledge about different intelligences and how children learn. It draws on a variety of resources from classical and contemporary children's literature, current social issues, the Arts and the World Wide Web. It offers a wide range of learning activities that address the intellectual, social, emotional, moral and spiritual dimensions of the student, and it promotes a learning process that incorporates perceiving/sensing, thinking, feeling and intuiting. Such a holistic approach, potentially, should address the inner and outer lives of students and enable them to make meaning from their life experiences; and to feel a sense of belonging and, therefore, a responsibility to their different communities.



Teaching for Meaning and Connectedness aims to extend and challenge students' existing perceptions, ideas, attitudes and values through the activities, strategies and resources. It seeks to move them forward in their thinking to view ideas from another's perspective, to understand difference and derive meaning through their engagement with the world and finally, to develop new, critical and empathetic insights which help them to connect with others. Ultimately, the resources and activities have been selected and developed to engage students at a depth level and to transform them in their ways of perceiving, being in and responding to the world around them.
The Authors
Marian de Souza is a Senior Lecturer. She spent many years as a Curriculum Coordinator and taught Music, Drama and English in secondary schools. Currently she teaches in the Religious Education and Education programs for pre-service teachers at Australian Catholic University. Marian has national and international publications about her research studies into the spirituality of young people and her learning model that recognizes the complementarity of the cognitive, affective and spiritual dimensions of education. Her other research interests include values-based education, using the arts to teach across the curriculum and investigating how small ethnic communities hand on their cultural and spiritual heritage to their younger members in pluralist, secular societies.
Patricia Cartwright, Senior Lecturer at Australian Catholic University, has a particular interest in children's literature, literacy teaching and learning, values education, and lifelong learning. She teaches literacy education to students studying to be primary, and secondary, teachers. She has had wide experience in primary, secondary and tertiary education, and has published in the areas of critical literacy, writing, action research, teacher narrative and tertiary teaching and learning.
Contents

1 – Learning to be with Self and Others
Resource 1:1 – Thoughts and feelings
Resource 1:2 – The Red Tree
Resource 1:3 – Alice's Adventures in Wonderland
Resource 1:4 – The Bunyip at Berkeley's Creek
Resource 1:5 – Children's picture books
Resource 1:6 – Piggybook

2 – Social Justice
Resource 2:1 – People who are different
Resource 2:2 – The Prince and the Pauper
Resource 2:3 – "Fair go Mate!"
Resource 2:4 – Way Home
Resource 2:6 – Where do the children play?
Resource 2:7 – The Rabbits
Resource 2:8 – Amnesty International
Resource 2:9 – Between memory and hope
Resource 2:10 – Contemporary Society
Resource 2:11 – Crusher is Coming
Resource 2:12 – Shrek (2001) The Film

3 – Our Natural World
Resource 3:1 – The Universe – A chain of inter-connections
Resource 3:2 – The World
Resource 3:3 – The Giving Tree
Resource 3:4 – The Butterfly Effect
Resource 3:5 – The Secret Garden
Resource 3:6 – Dance drama
Resource 3:7 – The Starfish
Resource 3:8 – Where the Forest Meets the Sea
Resource 3:9 – Where the Whales Sing
Resource 3:10 – Creation Myths
Resource 3:11 – Climate Change

4 – Citizenship and Civic Responsibilities
Resource 4:1 – Valuing Story
Resource 4:2 – Eureka Stockade (1850s)
Resource 4:3 – The French Revolution (1789-1799)
Resource 4:4 – The Scarlet Pimpernel
Resource 4:5 – The story of Robin Hood
Resource 4:6 – Ethics and Morals in Decision Making
Resource 4:7 – Shadow of a Bull
Resource 4:8 – The Angel with a Mouth Organ, Rose Blanche, My Hiroshima, My Dog
Resource 4:9 – The United Nations Universal Declaration of Human Rights
Resource 4:10 – Imagine and Give Peace a Chance
Resource 4:11 – The Arts as Social Commentary
Resource 4:12 – Protest through Painting

5 – Meaning and Vision for the Future
Resource 5:1 – The Existential Me
Resource 5:2 – Me and You
Resource 5:3 – Robinson Crusoe
Resource 5:4 – Tales of the Future The Gift of vision
Resource 5:5 – The War of the Worlds
Resource 5:6 – The Time Machine
Resource 5:7 – The Gift of Memory
Resource 5:8 – Wilfred Gordon McDonald Partridge
Resource 5:9 – Grandpa, Jenny Angel, Sophie
Resource 5:10 – Australia – Present and Future
Resource 5:11 – The Man who Planted Trees, Hailstones and Halibut Bones: Adventures in Colour
Resource 5:12 – Art forms from the Romantic period - 19th Century